[fusion_builder_container hundred_percent="no" equal_height_columns="no" menu_anchor="" hide_on_mobile="small-visibility,medium-visibility,large-visibility" class="" id="" background_color="" background_image="" background_position="center center" background_repeat="no-repeat" fade="no" background_parallax="none" parallax_speed="0.3″ video_mp4="" video_webm="" video_ogv="" video_url="" video_aspect_ratio="16:9″ video_loop="yes" video_mute="yes" overlay_color="" video_preview_image="" border_size="" border_color="" border_style="solid" padding_top="" padding_bottom="" padding_left="" padding_right=""][fusion_builder_row][fusion_builder_column type="1_1″ layout="1_1″ background_position="left top" background_color="" border_size="" border_color="" border_style="solid" border_position="all" spacing="yes" background_image="" background_repeat="no-repeat" padding_top="" padding_right="" padding_bottom="" padding_left="" margin_top="0px" margin_bottom="0px" class="" id="" animation_type="" animation_speed="0.3″ animation_direction="left" hide_on_mobile="small-visibility,medium-visibility,large-visibility" center_content="no" last="no" min_height="" hover_type="none" link=""][fusion_text columns="" column_min_width="" column_spacing="" rule_style="default" rule_size="" rule_color="" hide_on_mobile="small-visibility,medium-visibility,large-visibility" class="" id=""]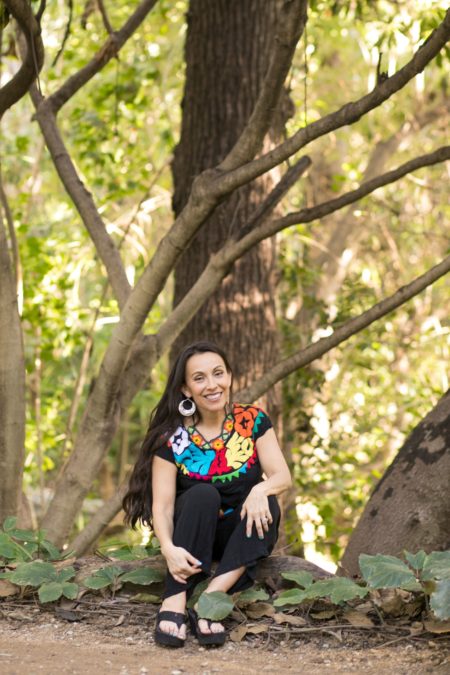 Coming out of the closet as a curandera (Latin American shamanic healing practitioner) was a process of personal integration, healing and acceptance. My role as a curandera encompasses over twenty years of training and practicing, mentoring with curanderx and shamans in the Maya Yucatecan jungle, Peru, and Los Angeles, and studying Mesoamerican Curanderismo in academia. But, the training and practice was not a smooth linear road, it was a jagged bumpy road full of idiosyncrasies.
In Cleansing Rites of Curanderismo: Limpias Espirituales of Ancient Mesoamerican Shamans, I disclose some of the pertinent events that finally propelled me to embrace my role as a curandera, and also provide step-by-step instructions on how to facilitate limpias. Limpias are practical and incredibly effective shamanic cleanses that heal, purify, and revitalize people and spaces with accessible items, such as herbs, flowers, eggs, feathers, fire, and water. They are the most common ceremonies within curanderismo. Curanderismo is a Latin American shamanic healing practice that is very eclectic, but its core traditions and practices stem from the indigenous peoples of the Americas. In the book, I also explore the different limpia ceremonies of the ancient Mesoamerican shamans, and explain how this ancient wisdom can be applied to facilitate powerful limpias.
Although everything about Curanderismo was always second-nature to me, embracing my role as a curandera was definitely a healing process in and of itself. I always knew that curanderismo was in my DNA, I come from a long line of grandmother curanderas. Until the age of eight, I had the opportunity to hear amazing stories of curanderismo from my great grandmother. But, I was also acutely aware that my grandmother chose the Western path of nursing school and that "modernization" had become the trend in my family. My father received his engineering degree at age sixteen from the University of Texas at El Paso (UTEP), and thereafter his younger siblings also went to college to become professionals. When my father passed away a few years later, my mother went to UTEP, she then started a trend in her family and all of her siblings also went to college to become professionals. The traditions of curanderismo in our family became distant memories. Perhaps still dear to our hearts, but distant memories nonetheless.
As a young girl, when I came to the United States as a first generation dual-citizen, I was prohibited from speaking Spanish in school, and learned through many channels that being Mexican and embodying the culture was not desirable. The somewhat derogatory comments that were made about the Tarahumaran indigenous peoples that I saw begging for money at the U.S.-Mexico international border every time I went from Juarez to El Paso also became ingrained in mind as a young child. I heard my tias (aunts) remark that indigenous people preferred to beg for money rather than work for it. When I questioned them about this, I was told that on different occasions they had offered them jobs to clean houses for decent pay, but these "lazy" Tarahumarans refused to actually work for money. In Mexico, the indigenous peoples are largely derided, and at the same time idealized, particularly in the artwork of post-revolutionary Mexico. This idealization has been and still is mired in paradoxes.
I grew up striving to assimilate into Western U.S. monolingual culture, knowing that something deep and important was missing. Fortunately, my undergraduate Xicanx (aka Chicanx) classes at UCLA began to awaken my spirit and soul. In these classes, I applied post-modern feminist critical theories to deconstruct, question, and reappropriate my culture. For the first time in my life I began to love and adore my culture, and myself. Graduating summa cum laude with college honors instilled confidence in me. In my college honors program, I had the opportunity to take 10 graduate level courses, and carve out independent study courses that allowed me to study curanderismo, which further nourished my awakening spirit.
Despite my decision to go to law school and become an attorney to empower the marginalized and work on social justice issues, synchronicities led me to meet my first set of mentors in the Yucatán, Mexico, while I was in law school. After I met my first mentors, I returned to the Yucatán every four to six months for the next seven years, and continued my mentorship training as a curandera. During this period, I was a full-time attorney living two separate lives: one as a curandera mentee and the other as an attorney.
A critical catalyst in pursuing my path as a curandera was my catastrophic injury that resulted in numerous bone fractures, and being in a wheelchair for almost a year. In 2005, I was hiking at Red Rock Canyon, Las Vegas, Nevada. I had just completed a very intense shamanic journey into the earth's ley lines. I experienced a time slip, two hours went by, in what felt like 15 – 30 minutes. I did not ground myself after this journey, jumped up, and was in a state of panic exclaiming that I was going to miss my flight. I while later I remember being airlifted out of the canyon.
Three days later, when I was fully conscious, I was told I had: a skull fracture, a brain hemorrhage, a left acromioclavicular joint separation, two fractured vertebrae, a shattered coccyx, three fractures in my left leg, and, on the right leg, bones fractured from the knee down and came out of my heel. Six weeks later, I was told that I also had severe osteomyelitis and lost half the bones in my right heel, due to the infection. I was told if I did walk again, it would be with some kind of assistance, and that I would likely be in pain the rest of my life because there was nothing that could be done about my shattered coccyx.
Although I had pursued my passion as a curandera, prior to this catastrophic accident, I thought of my interest in curanderismo and ancient Mesoamerica shamanism as mere hobbies. The first night I was conscious and aware of the extent of my injuries I knew I had to decide to step into my power, accept, and embrace my healing gifts as a shaman/curandera. I envisioned, and knew without any doubt that I would experience an impeccable recovery. During my recovery period, I put into practice everything I learned as a curandera mentee and facilitated my impeccable recovery. After not walking for almost a year, I walked with a completely normal gait in less than two weeks.
Shortly after my catastrophic accident, I deepened my practice by continuing my mentorship as a curandera, and also obtained a master's degree in religious studies with a focus on ancient Mesoamerican shamanism and curanderismo. I wanted to better understand our ancient indigenous ways, and so in graduate school I delved into the ethnohistorical records that explained my ancestors' shamanic traditions. This ultimately enabled me to become more secure and grounded in my practice as a curandera, and nuance it with ancient sacred Mesoamerican philosophy and beliefs.
It is important to understand that it was not my mentors were unaware of all of these ancient traditions; the traditions I discuss in Cleansing Rites of Curanderismo. Rather, I was often unaware of the questions or thinking that would elicit the teachings I obtained from these records. Even though I had been culturally exposed to shared underlying traditions, I still was not fully aware of what or why I was doing intuitively as far as practices that resembled curanderismo rites. I needed to completely immerse myself in the ancient Mesoamerican histories of curanderismo to fully appreciate the critical subtleties of this practice and feel more comfortable with it, so my clients could realize even greater benefits from my training and practice.
My mentors, for example, taught me the fundamental steps in navigating a platica (shamanic heart straightening talk) to help my clients eject the energy of their stories, so they can feel lighter and more at peace after a session, as well as the importance of cleansing my ritual spaces during and after platicas. But, it was not until I read about the numerous and elaborate state and community platica rites that the ancient Mesoamerican peoples engaged in to spiritually cleanse themselves and their community, is when I finally understood the necessity of regularly releasing through platicas. I understood that platicas should be facilitated in a ceremonial setting, where the spoken words are a conduit for purging, healing, creating, invoking and manifesting.
Every day that I engrossed myself in these ancient records and teachings, I healed a part of myself and experienced deep processes of soul retrieval and divine remembrance of who and what I am. As I explain at the beginning of the book, this book is an ofrenda (offering), that I hope inspires you to welcome home into your sacred heart your ancient traditions of healing, and also appreciate Mesoamerican indigenous ways of healing, purifying, rejuvenation and rebirthing.[/fusion_text][/fusion_builder_column][/fusion_builder_row][/fusion_builder_container]