[fusion_builder_container hundred_percent="no" equal_height_columns="no" menu_anchor="" hide_on_mobile="small-visibility,medium-visibility,large-visibility" class="" id="" background_color="" background_image="" background_position="center center" background_repeat="no-repeat" fade="no" background_parallax="none" parallax_speed="0.3″ video_mp4="" video_webm="" video_ogv="" video_url="" video_aspect_ratio="16:9″ video_loop="yes" video_mute="yes" overlay_color="" video_preview_image="" border_color="" border_style="solid" padding_top="" padding_bottom="" padding_left="" padding_right="" type="legacy"][fusion_builder_row][fusion_builder_column type="1_1″ layout="1_1″ background_position="left top" background_color="" border_color="" border_style="solid" border_position="all" spacing="yes" background_image="" background_repeat="no-repeat" padding_top="" padding_right="" padding_bottom="" padding_left="" margin_top="0px" margin_bottom="0px" class="" id="" animation_type="" animation_speed="0.3″ animation_direction="left" hide_on_mobile="small-visibility,medium-visibility,large-visibility" center_content="no" last="true" min_height="" hover_type="none" link="" border_sizes_top="" border_sizes_bottom="" border_sizes_left="" border_sizes_right="" first="true"][fusion_text columns="" column_min_width="" column_spacing="" rule_style="default" rule_size="" rule_color="" hide_on_mobile="small-visibility,medium-visibility,large-visibility" class="" id=""]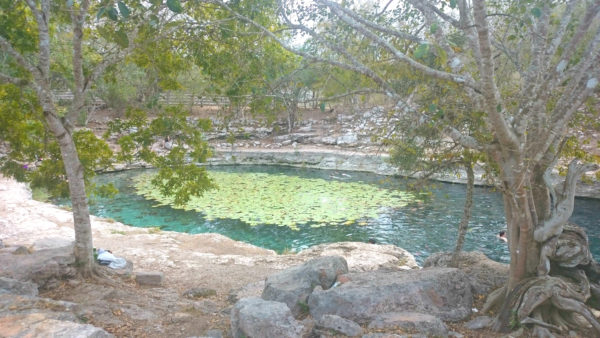 Water limpias (shamanic cleanses) can cleanse, revitalize, and facilitate a rebirth and soul retrieval for people, sacred items, and physical spaces. Limpias are the most prevalent rites in curanderismo, an eclectic Latin American shamanic healing practice, which stems from the ancient indigenous people of the Americas. For people, a water limpia can help to facilitate a holistic—mind, body, spirit and soul cleanse, revitalization, and renewal. A curanderx may spray the person with some kind of charged or blessed water, instruct them to take a baño (spiritual bath) in water that has specified items in it, or to go into a body of water at a certain time or day for a prescribed amount of time.
Water limpias can also charge and cleanse the sacred tools that will be used in other types of limpias, such as the herbs, flowers, or eggs in sweep limpias (aka barridas), and also revitalize the soul essence energy of sacred items, idols, or physical spaces. Bowls of water can also be used as offerings to cleanse a situation; see into situations—past, present or future; or act as a portal into divine realms. A curanderx may also give their hand a water limpia before doing a card reading, or some other divinatory work. Water limpias are incredibly multilayered in purpose and benefit.
Water limpias were highly revered by the ancient Mesoamerican shamans. Bathing in water, being cleansed by water, and entering water fostered pivotal life transitions, including birth, adolescence, accession of shaman rulers, death, renewal, and resurrection. They performed water limpia calendrical ceremonies for themselves, their sacred images, and their tools. Bathing was an act of cleanliness and a ritual act of absolution, as filth and dirt were associated with vice, laziness, and disgrace. Water could serve as a gateway to other worlds, where deities could be accessed, consulted, and conjured. Pools of water such as cenotes (natural freshwater pools), springs, and bowls of water could be used to see into past, present, and future events. Particular bodies of water were also frequently worshipped as magical sources of water where water rites took place, and where water was obtained from for other limpia ceremonies.
In this article, I will discuss how to facilitate a water limpia with baños for purification and rejuvenation, as well as the steps to take before and after the baño. In my book, Cleansing Rites of Curanderismo: Limpias Espirituales of Ancient Mesoamerican Shamans, I discuss many other limpia practices with water, fire, feathers, herbs,  flowers, eggs, and physical spaces, and trace these practices to the ancient Mesoamerican shamans. Understanding the ancient and contemporary beliefs of these shamanic practices is essential in giving more meaning to our own individual ceremonies; thereby making them more potent, which can enable us to live more graceful happier lives.
Baños are spiritual baths that cleanse and revitalize the mind, body, and spirit, and can also aid in soul retrieval. The space where you are going to give yourself a water limpia should be cleansed first, even if it is outdoors. As I also discuss in Cleansing Rites of Curanderismo, cleansing the space before facilitating the limpia is important because the space also facilitates the limpia. Cleansing the space is an offering to the space, and prepares it energetically to engage in the transmutation of any dense energies, and/or the manifestation of hopes and dreams. One simple way to cleanse a space is to smudge it with a bundle of dry herbs, all herbs have cleansing properties. Also the space where this water limpia is being performed, whether it is in a bathroom, or in a tub inside or outside the house should be cleaned physically. Cleaning the space is also an offering to the space to help facilitate your cleanse.
For the baño you will need:
A handful of equal proportions of rosemary, basil, parsley, mint, chamomile, sage or lemongrass. It is ideal if you can include all of these herbs in the mixture, and truly any of these herbs are great in facilitating a deep cleanse and rejuvenation
A cup of Epsom salt
A bundle of herbs to cleanse your space
A bathtub or a small kid-sized pool
Communicate with the spirit essence of the herb(s) prior to using them, and thank the herb(s) for helping to purify and rejuvenate you. To avoid clogging your drain, you can place the handful of herbs in either a clean twelve-cup coffee or tea maker to make concentrated tea. If you do not have an equal proportion of herbs, that is perfectly fine, most importantly connect with the spirit essence of the herbs and ask them for their help. An average handful of herbs should yield five to seven pots; you can tell you have extracted what you what from the herbs when the water becomes very light. Place the cup of epsom salt and the prepared herbal water in the tub.
Once in the tub, connect with the spirit essence of the water and thank the water for providing you with an overall cleanse and rejuvenation. In terms of how to connect with the spirit essence of any sacred item, just set the intention in doing so and emit love out from your heart chakra and essence into the item—connection made, it is that simple. While in the water, envision your life becoming simplified and more graceful. When you feel you are complete and done with the water limpia, prepare to exit the tub and thank the water and the spirit of the herbs for cleansing and purifying you one last time. Afterwards, wash off with cold water, the colder the better. The cold water further clears away any residual unwanted energies, and hot- and cold-water hydrotherapy has great benefits for the body, boosting circulation, reducing stress, and stimulating the removal of toxins from the organs. If you have noticed that you have had low energy, it is a good idea to do baños on a daily basis, until you feel fantastic.
[/fusion_text][/fusion_builder_column][/fusion_builder_row][/fusion_builder_container]