[fusion_builder_container hundred_percent="no" equal_height_columns="no" menu_anchor="" hide_on_mobile="small-visibility,medium-visibility,large-visibility" class="" id="" background_color="" background_image="" background_position="center center" background_repeat="no-repeat" fade="no" background_parallax="none" parallax_speed="0.3″ video_mp4="" video_webm="" video_ogv="" video_url="" video_aspect_ratio="16:9″ video_loop="yes" video_mute="yes" overlay_color="" video_preview_image="" border_color="" border_style="solid" padding_top="" padding_bottom="" padding_left="" padding_right="" type="legacy"][fusion_builder_row][fusion_builder_column type="1_1″ layout="1_1″ background_position="left top" background_color="" border_color="" border_style="solid" border_position="all" spacing="yes" background_image="" background_repeat="no-repeat" padding_top="" padding_right="" padding_bottom="" padding_left="" margin_top="0px" margin_bottom="0px" class="" id="" animation_type="" animation_speed="0.3″ animation_direction="left" hide_on_mobile="small-visibility,medium-visibility,large-visibility" center_content="no" last="true" min_height="" hover_type="none" link="" border_sizes_top="" border_sizes_bottom="" border_sizes_left="" border_sizes_right="" first="true"][fusion_text columns="" column_min_width="" column_spacing="" rule_style="default" rule_size="" rule_color="" hide_on_mobile="small-visibility,medium-visibility,large-visibility" class="" id=""]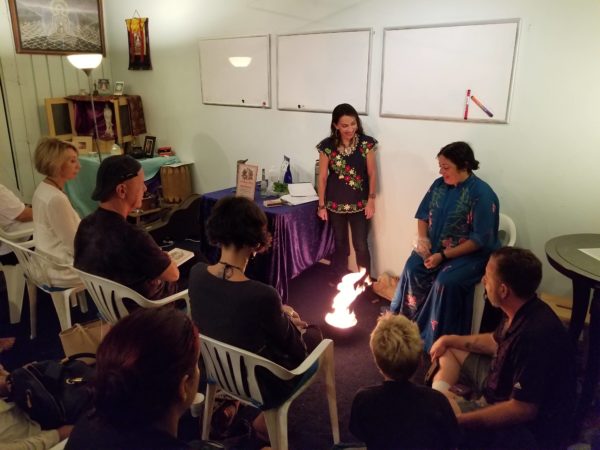 Due to their multilayered uses and benefits, fire limpias (shamanic cleanses) are among the most common rites in contemporary curanderismo, a Latin American shamanic healing practice, which has its core roots with the indigenous people of the Americas. Fire limpias can establish a gateway to the divine and can be used as a prognostic tool to assess past, present, and highly probable outcomes. They can also clear away dense influences affecting a person and/or their circumstances. They are extraordinary at helping to create a path towards a more graceful and positive transformation, and facilitate fortuitous new beginnings. They can also activate and renew the sacred essence energy within living spaces, as well as sacred items, such as medicine bundles, staffs, and idols. The tools used in limpia healing sessions are also frequently burned to destroy the causes of the affliction(s).
Fire limpias were also the most ubiquitous ceremonies among the ancient Mesoamerican shamans. Similarly, they varied in purpose and meaning, and could be divinatory in nature. In my book, Cleansing Rites of Curanderismo: Limpias Espirituales of Ancient Mesoamerican Shamans, along with discussing how to do other types of limpias—using water, feathers, eggs, heart-straightening talks, flowers, and other accessible items—I also trace these shamanic cleansing practices to their ancient Mesoamerican roots. Learning these ancient shamanic traditions can greatly nuance our practice giving our ceremonies more potency, life, love, and magic. For instance, when I learned that they engaged in periodical fire limpias for certain temples to activate or reactivate their sacred essence energy, a soul energy that could resemble its human owner, I began performing fire rites on my birthday for my healing room setting the intention that it too empowered the limpias I facilitated. My clients always state that they love the energy of the room and feel immediately at ease once in the room.
While white fire limpias can be used to cleanse and renew physical spaces, sacred items, and people, in this article, I will discuss how to do white fire limpias to clear dense energies, open pathways, as well as how to read the results of a white fire limpia for people. Whether you are doing a white fire limpia for yourself, another person, sacred item, or space, here is what you will need:
A pot with a handle, preferably a stainless-steel or cast-iron pot. (Please keep in mind that the tools you use for limpias should never be used for actual cooking, eating, or drinking. They are sacred cleansing items and should be placed in a separate space, out of reach, so they are not mistakenly used.)
A couple of handfuls of plain epsom salt
Rubbing alcohol
Dry herbs
Wooden stick matches
no. 2 pencil
Piece of paper
All herbs have phenomenal cleansing gifts. Basil, feverfew, lemon balm, lemongrass, and mugwort, however, are particularly ideal at cleansing dense energies and opening up pathways to great fortunes. For this white fire limpia, you can use one, two, three, four, or all of the recommended herbs. The number of the herbs used is not as important as the connection made with the spirit essence of the herb. If you are taking the herb from a garden, before taking a cutting, leave an offering, such as: cornmeal, tobacco, a crystal, a shiny object, epsom salt, or even a kiss, and always project love and gratitude to it. Before using the herb(s) for the limpia, always take a moment to connect with their spirit essence, and share your intention and prayers. Take the herb(s) in your hands, and lovingly thank their spirit essence for helping you with your intention and prayers. Gratitude always strengthens intentions and can build wonderful plant allies.
Thereafter, write down your intention on a piece of plain paper using a no. 2 pencil. Because I recommend to use wax (aka parchment) paper for velaciónes (candle-based fire limpias), sometimes I get asked whether wax paper should be used for these type of fire limpias. I do not recommend to use wax paper for this type of limpia because you want everything to thoroughly burn. Wax paper often does not burn all the way, so use regular paper.
After writing down your intention, sit with our intention, meditate on it, and state it out loud. When you feel your intention is complete, gather all of the sacred tools for the limpia. Place the rubbing alcohol and epsom salt in the pot. You want to make sure the rubbing alcohol covers the epsom salt, so it will light on fire. The amount of alcohol is usually about a half cup, but it may be a little less or more, depending on the size of the pot. Carefully throw the match into the pot. Thereafter, throw your paper into the fire, and then your herbs. The herbs serve as an offering to the fire. Repeatedly state your intention until the fire goes out. As you are stating your intention, remember to also thank the spirit of the fire and the herbs for helping you manifest your intention, and proclaim your intention with certainty and commitment.
After the fire burns out, soak the pot for about five to ten minutes in water. The amount of residue stuck on the pot reveals how much has been released, and how often you should engage in limpias. If there is a lot of residue on the pot, you may want to consider doing a white fire limpia daily or weekly. If the pot was rather clear, then engage in another white fire limpia as you feel intuitively guided. Keep in mind, however, that no matter how much residue has been left on the pot, the fire limpia has facilitated a release and cleansing. With every limpia there is a greater release, transition, and opportunity for new ideal beginnings.
[/fusion_text][/fusion_builder_column][/fusion_builder_row][/fusion_builder_container]