New Moon Ceremony & Soundbath: 2024 Intention Setting
January 11, 2024 @ 7:00 pm

-

8:30 pm

PST

$15.00 – $20.00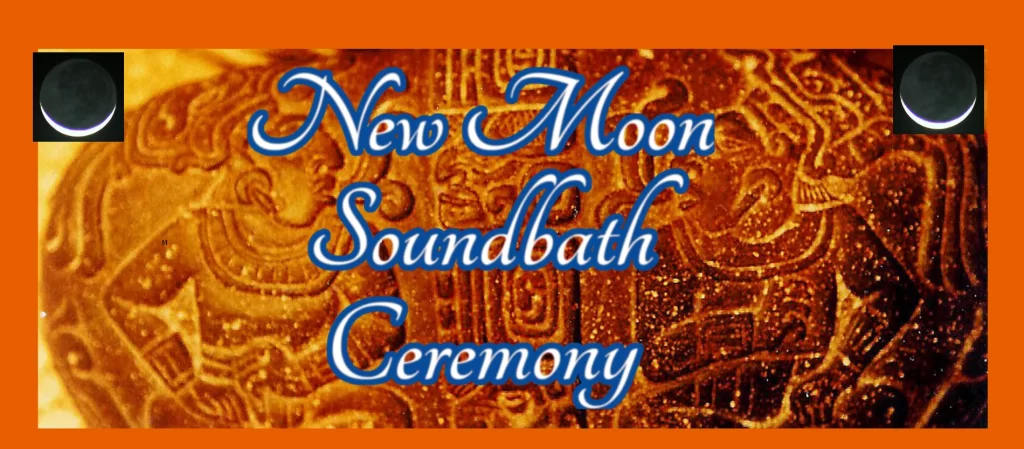 Celebrate the New Moon with Magical Moon Rites & a Rejuvenating Soundbath Ceremony. If you would like to come in-person, please RSVP via email (see below) as space is limited.
For this New Moon Ceremony and Soundbath, we set our intentions for 2024.
1/8- 1/27: Izcalli (encouragement for the land and people). Eighteenth Month. Transformation and Release. They celebrated a feast to the god of Fire, Xiuhtecutli. On the tenth day of the month they made a fire at midnight. When a flame began to form they blew on the fire to share their tonalli with the fire.
Along with celebrating the New Moon, we celebrate the month of Izcalli (1/8- 1/27:). The ancient Central Mexicans, celebrated a feast in honor the god of Fire, Xiuhtecutli. They made a fire at midnight. When a flame began to form they blew on the fire to share their tonalli with the fire to set their intentions. Our magical New Moon ceremony will integrate these principles. 
We start with shamanic breathwork and trance journeys to explore our intentions, and work with the New Moon. Once we cleansed and revitalized ourselves with shamanic breathwork, explored the sacred meanings of the new moon and new moon rites, everyone will lie down and receive the healing vibrations from a sound bath. The sound bath will include crystal bowls, Tibetan bowls, gongs and medicine songs providing a lush soundscape for deep meditative journeying and melodies to open the heart.
In this ceremony, you will:
• Connect and Manifest with the Magic of the New Moon
• Learn a traditional Mesoamerican New Moon Rite
• Receive vibrational healing through sound baths and icaros (medicine songs)
• Engage in shamanic breathwork that focus on an area of the body & the benefits of working on this area of the body
• Explore Ancient Mesoamerican Indigenous magic, wisdom, traditions, and rites concerning the New Moon
What's needed:
• Something to lie down on: yoga mat or small blanket
Date/Time: 1/11, 7-8:30pm PST (the recording will be available for 2 weeks after we go live)
Online RSVP: Send the $15 via venmo (erika-buenaflor) or zelle (erika.buenaflor777@gmail.com) & please provide your email address so we can send you the link to the class. The link will go out the morning of 1/11
In-person RSVP: If you'd like to attend in-person please email erika@realizeyourbliss.com to see if we still have spaces before paying. Priority will be given to those that pay first ($20). The link will go out the morning of 1/11. Yes, you will also get the link
*In-person participation will also include a Florida water sweep limpia,  experiencing an aurora borealis lightshow during the soundbath, and a Community Mini-Integration after the soundbath.
Ceremony Facilitator: Erika Buenaflor, Curandera, Spiritual Counselor/Coach and Author
Soundscape Facilitator: Miguel Buenaflor, Conscious Musician
Miguel has performed medicine music in over 100+ various shamanic ceremonies in the Yucatan and in the US. Versed in songs of healing and awakening through many languages, he transcends the language barrier through his passionate play-style and serenading guitar melodies. As a student of Truth, his music aims to spread love and awaken hearts, one melody at a time.