Deepening our Practice: Fire Limpias Rites, Recipes, & Considerations
June 25 @ 12:00 pm

-

3:15 pm

PDT

$50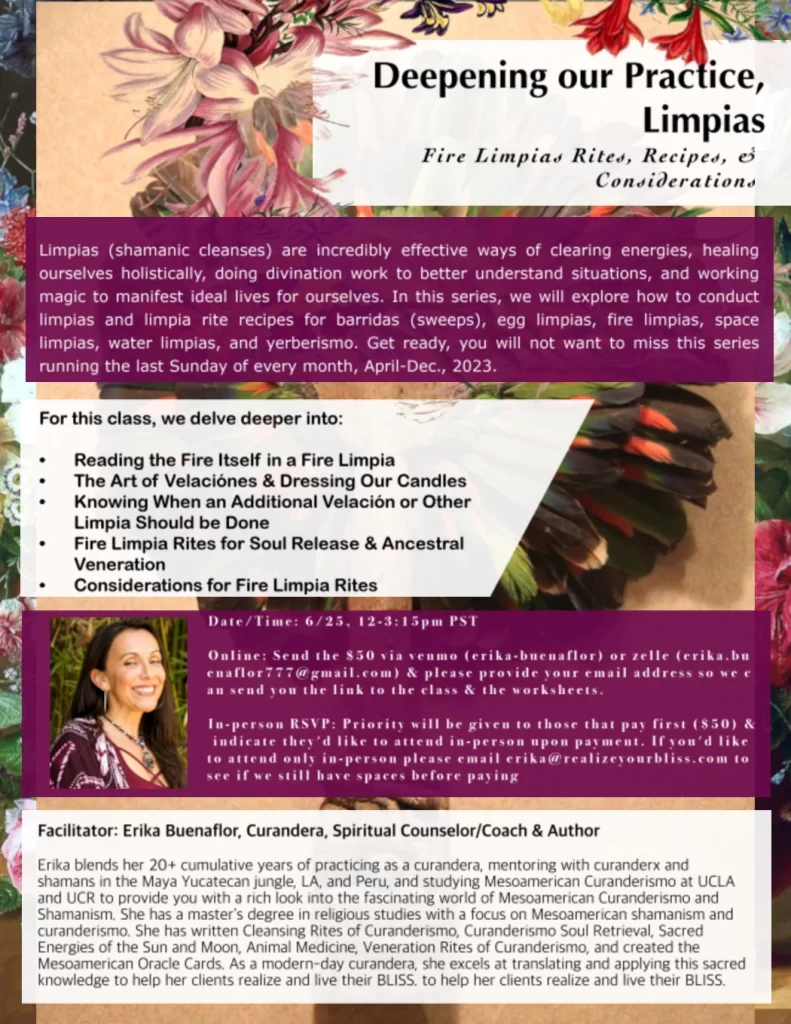 Limpias (shamanic cleanses) are incredibly effective ways of clearing energies, healing ourselves holistically, doing divination work to better understand situations, and working magic to manifest ideal lives for ourselves. In this series, we will explore how to conduct limpias and limpia rite recipes for barridas (sweeps), egg limpias, fire limpias, space limpias, water limpias, and yerberismo. Get ready, you will not want to miss this series running the last Sunday of every month, April-Dec., 2023.
For this class, we delve deeper into:
Reading the Fire Itself in a Limpia
The Art of Velaciónes & Dressing Our Candles
Knowing When an Additional Velación or Other Limpia Should be Done
Fire Limpia Rites for Soul Release & Ancestral Veneration
Considerations for Fire Limpia Rites
Date/Time: 6/25, 12-3:15pm (PST, the recording will be available for 2 weeks after we go live)
Online RSVP: Send the $50 via venmo (erika-buenaflor) or zelle (erika.buenaflor777@gmail.com) & please provide your email address so we can send you the link to the class & the worksheets. The worksheets and link will go out 6/24. If you attended the 6/11 Medical Intuition Class, this class is ½ off.
In-person RSVP: Priority will be given to those that pay first ($50) & indicate they'd like to attend in-person upon payment. If you'd like to attend only in-person please email erika@realizeyourbliss.com to see if we still have spaces before paying. The info will go out 6/24. If you attended the 6/11 Medical Intuition Class, this class is ½ off.
Erika blends her 20+ cumulative years of practicing as a curandera, mentoring with curanderx and shamans in the Maya Yucatecan jungle, LA, and Peru, and studying Mesoamerican Curanderismo at UCLA and UCR to provide you with a rich look into the fascinating world of Mesoamerican Curanderismo and Shamanism. She has a master's degree in religious studies with a focus on Mesoamerican shamanism and curanderismo. She has written Cleansing Rites of Curanderismo, Curanderismo Soul Retrieval, Sacred Energies of the Sun and Moon, Animal Medicine, Veneration Rites of Curanderismo, and created the Mesoamerican Oracle Cards. As a modern-day curandera, she excels at translating and applying this sacred knowledge to help her clients realize and live their BLISS.