Mesoamerican Oracle Cards
Mesoamerican Oracle Cards Product Video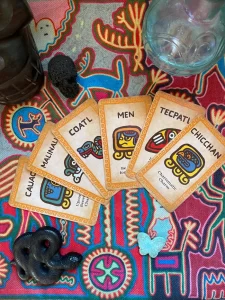 Holiday Special. Purchase two or more Mesoamerican Oracle Cards between Nov. 14th 2022 thru Dec 31st, 2022 and get exclusive access to an online class:
Divinatory Work with the Mesoamerican Oracle Cards & the New Moon, 1/21/23, 12-1:30pm PST (recording will be available via the provided link for two weeks after we go live, and thereafter will be deleted). For this exclusive class, we will cover:
Spreads for New Moon Divination

Limpia rites to solidify a divinatory reading

Limpia rites to shift predicted outcomes
Intending to inspire the continued use and understanding of the ancient Mesoamerican tradition of doing divinatory work with the day signs, the Mesoamerican Oracle Cards invite us to connect with these day signs, and learn their sacred gifts and teachings. The Mesoamerican Oracle Cards are comprised of two divinatory calendars: the 20-day signs of the Central Mexico's divinatory calendar, the Tonalpohualli, and the 20-day signs of the Maya's divinatory calendar, Tzolk'in. 
There are a total of forty cards or forty-day signs. Each card identifies the name of the day sign at the top of the card and its contemporary spiritual significance at the bottom, making it ideal for both beginners and professional readers. Each card depicts the ancient Mesoamerican glyph of each day sign from both divinatory calendars. As sacred entities in their own right, these day signs can provide invaluable insight on our path and the steps we need to take to live a more prosperous and abundant life.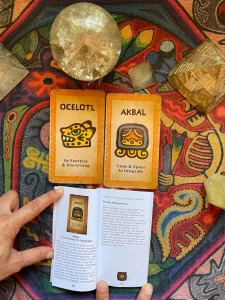 The guidebook introduces the ancient and contemporary meanings of each day sign, and the powerful insight and messages they offer in guiding us on our spiritual journeys. You'll learn how to conduct oracle readings with these day signs for yourself and others, and help preserve their use and understandings. 
Please allow seven business days for your deck to be shipped out. Once it has been shipped out, you'll receive an email with the tracking information.
Currently only shipping domestically in U.S.A. via our website. If you'd like a Mesoamerican Oracle Deck shipped to you outside U.S.A, please contact Miguel@realizeyourbliss.com, let us know how many decks you'd like, and provide your mailing address. We'll confirm the price via email and send you an invoice.
All sales are final.
Not responsible for any issues due to courier, including lost items.