Energetic Protection. Strengthening Our Energy & Physical Bodies: Spiritual, Life Purpose
July 17 @ 12:00 pm

-

3:15 pm

$40.00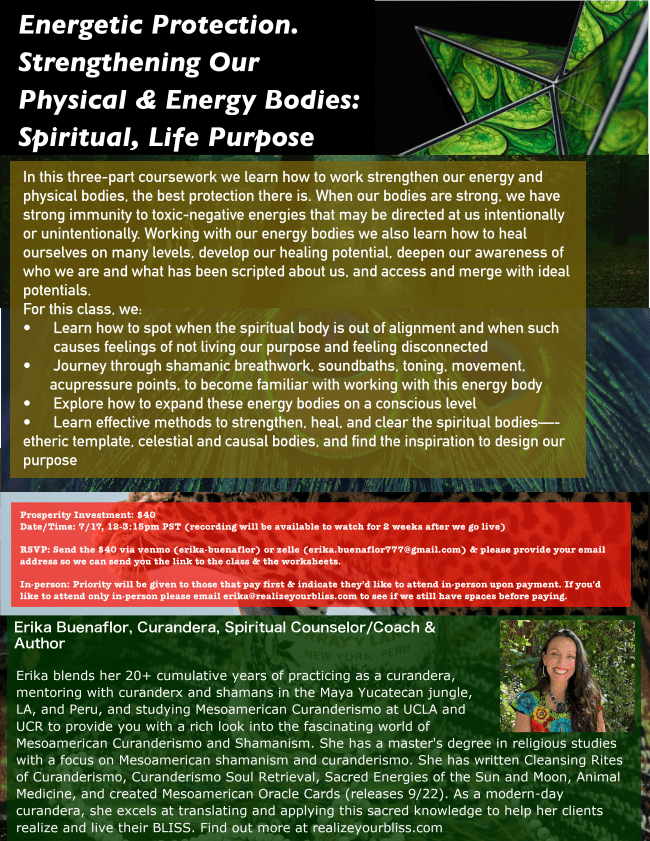 In this three-part coursework we learn how to work strengthen our energy and physical bodies, the best protection there is. When our bodies are strong, we have strong immunity to toxic-negative energies that may be directed at us intentionally or unintentionally. Working with our energy bodies we also learn how to heal ourselves on many levels, develop our healing potential, deepen our awareness of who we are and what has been scripted about us, and access and merge with ideal potentials.
For this class, we:
Learn how to spot when the spiritual body is out of alignment and when such causes feelings of not living our purpose and feeling disconnected
Journey through shamanic breathwork, soundbaths, toning, movement, acupressure points, to become familiar with working with this energy body
Explore how to expand these energy bodies on a conscious level
Learn effective methods to strengthen, heal, and clear the spiritual bodies—etheric template, celestial and causal bodies, and find the inspiration to design our purpose
Date/Time: 7/17, 12-3:15pm (PST, the recording will be available for 2 weeks after we go live)
RSVP: Send the $40 via venmo (erika-buenaflor) or zelle (erika.buenaflor777@gmail.com) & please provide your email address so we can send you the link to the class & the worksheets. The link & worksheets will go out 7/16.
In-person: Priority will be given to those that pay first ($40) & indicate they'd like to attend in-person upon payment. If you'd like to attend only in-person please email erika@realizeyourbliss.com to see if we still have spaces before paying. The info will go out 7/16.
Facilitator: Erika Buenaflor, Curandera, Spiritual Counselor/Coach & Author
Erika blends her 20+ cumulative years of practicing as a curandera, mentoring with curanderx and shamans in the Maya Yucatecan jungle, LA, and Peru, and studying Mesoamerican Curanderismo at UCLA and UCR to provide you with a rich look into the fascinating world of Mesoamerican Curanderismo and Shamanism. She has a master's degree in religious studies with a focus on Mesoamerican shamanism and curanderismo. She has written Cleansing Rites of Curanderismo, Curanderismo Soul Retrieval, Sacred Energies of the Sun and Moon, Animal Medicine, and created Mesoamerican Oracle Cards (releases 9/22). As a modern-day curandera, she excels at translating and applying this sacred knowledge to help her clients realize and live their BLISS.