Mesoamerican Oracle Cards & the Divinatory Calendars, Tonalpohualli & Tzolk'in
October 21, 2022 @ 7:30 pm

-

8:30 pm

PDT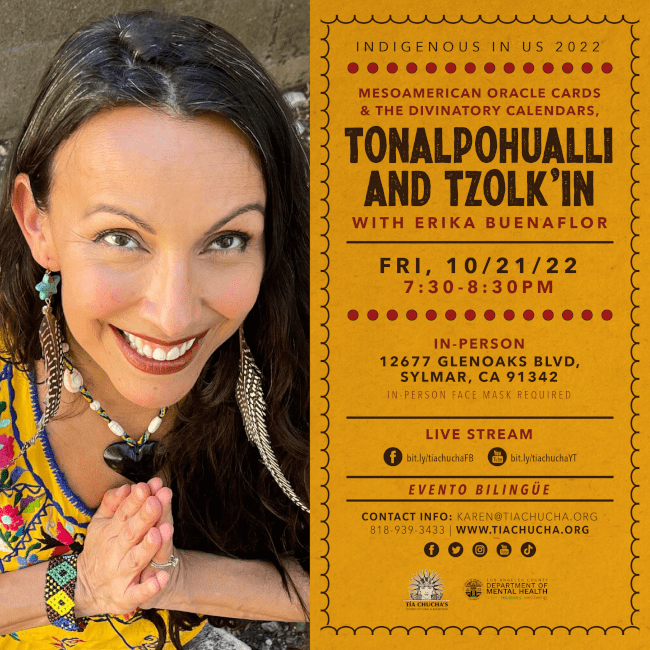 FREE IN-PERSON AND ONLINE EVENT! BILINGUAL TOO! 
In ancient Mesoamerica, each day sign of their divinatory calendars was believed to be a sacred entity in their own right, and also conveyed messages from and were influenced by deities, ancestors, and other supernatural beings. Specialists documented the meanings of their day signs in their codical auguries and artwork, and consulted their meanings for various types of matters.
While many of the sacred books were burned by the Spaniards, there were a handful of ethnohistorians that kept records of their meanings, and there were also Indigenous peoples that continued in secret to use and refer to them. The guidebook that comes with Mesoamerican Oracle Cards explores their ancient meanings, which we will work with on this special evening.
Join us and learn about:
The traditions of working with these Ancient Mesoamerican Divinatory Day Signs
Why these Day Signs are still believed to be animated with their own soul energy
Animating the Mesoamerican Oracle Cards for guidance and divination
Divinatory card spreads
Link to attend Online: Bit.ly/tiachuchaYT
RSVP for In-Person Attendance: Info@TiaChucha.org